Over the years, SEO has become a buzz word for every industry starting from small scale to big MNCs. Companies are hiring teams who will constantly work on SEO and keep their brand atop the user searches over internet. For other companies, it's still a buzzword and they are trying hard to justify weather this buzzword has any significance for their business.
Well! We must suggest, it's one of the most important aspect of your business strategy if you are on the rising growth curve. Hence, let's understand this powerful technology from the basics.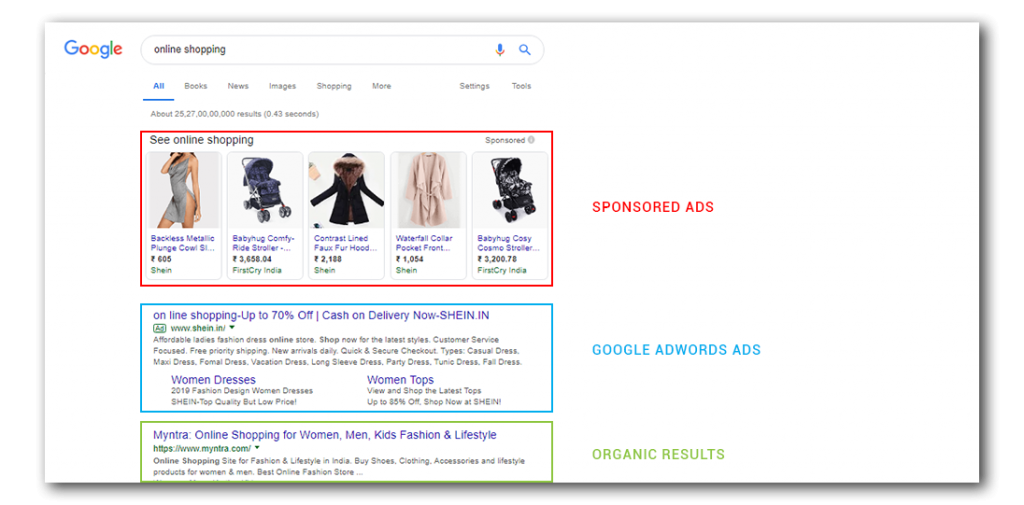 In order to understand SEO, let's start from search engine. Search engine is nothing, but a complicated program developed by some companies to make our lives easier. This program takes keyword input from you and gives you the answer to your search query. All of us know about the most popular search engine "Google". But apart from this, there are many others such as Bing, Yahoo, Ask, AOL Search, Baidu, Excite etc. Out of all these names Google is leading the market with a global market share of approximately 73%. Hence, all the SEO techniques mostly revolve around ranking parameters of Google and corresponding optimization techniques.
The 2nd most basic aspect of SEO is Organic Search results. Search engines outputs multiple responses to your search query in 2 categories- Organic and Paid results. Organic results are the links to the web pages in response of your search query based on relevance. SEO revolves around the techniques to list all your search results in organic search based on their ranking. This ranking is decided by the search engine through a number of parameters which we will discuss later in this article.
What is SEO?
Search Engine Optimization (SEO) refers to the various techniques used by companies to increase their web rankings on search engine result pages (SERP).The main objective behind the SEO techniques is to provide quick and accurate results and rank higher in the organic search results as compared to your competitors for your business segment. For the most popular search engine Google, there are more than 200 parameters that affects the ranking of any website. Moreover, SEO ranking of any website depends upon website architecture, content optimization, both inbound and outbound links, optimized internal navigation within the website. The core idea behind SEO is getting the most user friendly, useful, easily understandable content for the users and search engines.
Why your business needs SEO?
Everyone looks up for you online:
A research says 70% consumers search online for best companies, relevant companies etc before coming to you for their specific requirements. If we take the internet usage figures into account, more than 3.2 billion people would be online by the end of 2018. Google access 40,000 search queries every second. These figures clearly shows how important your web presence is. In order to keep up with this demand, a simple functional website does not suffice. Again, with the existing level of competition in all sectors, your web ranking really matters.
You get quality traffic for your website:
Traffic received through search engine is the best traffic. Because, they are the "pull" traffic to your website. It is much better than the traffic received through paid advertisements. The traffic received through organic search actually needs your product or service and they have queried for it in the search engine. Hence, the lead obtained through this would be better than the ones obtained through any "Push" advertisements.
SEO is measurable & help increase sales lead:
SEO efforts are measurable. Your website's organic traffic, conversions, website ranking, keywords for your business to help you rank well etc everything can be measured with a right SEO strategy, because all of them include data.
SEO has a direct impact on your sales. This is true not only for online sales, but also for offline sales. The more visible your website, product and service becomes for relevant search queries, the more likely is the increase in website traffic and more is the chances of leads and conversions.
More effective than PPC campaigns:
Positioning your website through organic SEO is much more effective than PPC campaigns. They are long lasting whereas your position in the search result page through PPC depends on bids by the competitors for similar keywords. Also, the ranking through PPC lasts only till the campaigns are turned on. But a properly optimized website with organic ranking through SEO continues to last in its position for a long time even after the PPC campaigns are turned off.
SEO can give you an edge over the larger business:
For small and medium businesses, the main limitation lies in the budgeting. Larger businesses constantly spend on marketing to stay atop the search result page. But a good SEO strategy with an optimized website can let you stay on top without spending on ads and campaigns.
Increasing mobile searches:
Google mobile ranking owns around 95% of the total mobile search market. An optimized site for both web and mobile with SEO optimization ranks higher in both mobile and web search engine. Increased mobile search ability gives an added advantage to your website since almost 50% of all searches are through mobile only.
SEO trends for 2019:
With the fast changes in Google algorithm and innovations, it has become really important to make your SEO strategy oriented towards these changes. Lets explore them one by one.
Mobile first indexing:
As the name suggests, mobile first indexing is the technique, where google bot crawls the mobile version of your website and the ranking is done based on that. If a website does not have a mobile site, it will still be crawled by Google bot, but lacking a mobile friendly website will have a negative impact on the ranking of your website.
Website security:
Google has made it mandatory for all websites to use SSL certificate as a security measure. A website without a SSL will be marked "Not Secure" in chrome browser. Given the fact, this is important from data hacking and data theft point of view, Google has added it as a top priority in order to give a better user experience to its users.
Know more about SSl Certificate and how to incorporate SSL to your website.
Voice search:
In order to keep up with competition, your website should be voice search ready. With the wide use of Google Assistant and similar applications, customers are moving more and more towards voice search and the numbers are one fifth of the total search queries on Google. The voice search relies on NLP(Natural Language Processing) to recognize the voice patterns and interests and respnd to the query accordingly. Hence, in order to be SEO ready, your website should be optimized with voice search feature.
Quality content
Quality Content lies at the heart of any SEO development. You can try multiple SEO options, but if your content is not attractive, specific and meets client demand. Then it can never create good user experience. Hence, Quality content might not be the first point of attracting clients, but there should be sync between what you project your website to be and what your website is in reality. Quality content also refers to a precise content with proper call to action and navigation option to render your website.
GDPR and its effect in SEO:
With the strict permission control rules of GDPR, the website ranking will be affected. The website user experience will be greatly impacted due to GDPR rules of data permissions and prompts. This in turn will affect the SEO ranking of those websites
Page speed optimization:
You might have tried numerous techniques to optimize your website speed. But Google has started taking real User measurements (RUM) into consideration to give you the page speed score. Your website's performance in chrome browser experience gives you a measure of RUM. The metrics are taken from chrome user measurement report. Hence, its important to adjust your SEO strategy to offer a seamless experience to both your mobile and web users.
Learn more about how to increase your website speed
Tools for SEO:
SEO is not an easy and one dimensional task, it has multidimensional facet and depends on many factors. Also, it is an ongoing practice. With the wide use of SEO, a large array of tools are available for SEO. Its important to know the most important categories for which we require the tools. We can categorize them as follows-
Tracking the existing ranking of your website:
Before you start jumping into any SEO tools or process, It's important to first know your positioning in the world wide web with respect to your competition. The rank tracking tools not only tell you about your position, but also addresses the points where you are going wrong.
Few such tools are as follow-
Google Webmasters tool:
This is a free tool by Google and offers a number of functionality to see how your website appers in Google search. The feature "Fetch as Google" lets you know exactly how google sees your website and help you improve your website ranking accordingly.
Moz Pro:
The robust tool tracks and analyses search, content and social media. Also, it provides insights to improve your SEO.
Screaming Frog Spider Tool:
The tool offers a lightweight and user friendly interface which is the main highlight of the tool. Hence, while crawling image, CSS and all SEO specific data, it will work smoothly without causing any system slowdown and thus offering a better user experience.
SEM Rush:
This is an elaborate tool which has a comprehensive desktop. It allows you to compare your performance against your competitors in the same dashboard in a graphical format.
Apart from these, there are many such free and paid tools available for such functionality such as Buzzstream, Ahrefs, Upcity's SEO report card, CheckmyLinks and many more
Keyword Analysis Tool:
Search engine go hand in hand with keywords. Keywords guides the search engine to reponse to your query. Hence, Its important and crucial to research about relevant keywords for your website and how you want to appear in search engine atop your competitors. Several free and paid tools are available for keyword research. These tools not only let you find the right keywords for your business segment, but gives measurable figures or weightage of each keyword with respect to competition. Few keyword research tools can be outlined as below
Keyword Planner:
This tool is offered by Google. You can input your business segment, search keyword. It outputs a number of options relevant to the keyword and their various parameters with respect to competition.
SEM Rush:
This is a combined platform for several tools and offers a comprehensive dashboard to showcase the output.
There are several other tools such as KWFinder, Ahref's Keyword Explorer, Moz's Keyword finder, Ubersuggest etc which offer a easy to use and useful interface.
Link Builder and Ranking Tools:
Link Buiding helps attain SEO success by generating backlinks to your website. Few such tools specific to this purpose are-
Google Search Console:
This tool by Google, gives you an easy to use interface with categories for easy search and also tool to manage your campaigns.
Ahrefs:
This is one of the largest link building tool. Also, the main advantage is the easy to use interface which can be used by everyone even without any technical expertise.
BuzzStream:
This offers a single platform to manage multiple campaigns effectively across multiple platforms.
Moz SEO Toolbar:
Moz offers a very powerful tool, but limited time free functionality. Most of the features are paid after 30 days.
There are n number of such tools available online. This is one of the very important step in your SEO and should be executed after gathering knowledge on pros and cons of the campaigns.
Link Removal Tool:
Link removal might not be an important tool for your SEO if you didn't start during Google's penguin update. It's a time consuming task. Several tools like Disvow links, cognitive SEO etc are used for the purpose
Our Thoughts…
Since we have moved to an era where users remain logged in the browser all the time, be it mobile or desktop. Hence, The results are very much predicted by your search pattern by monitoring your activity. It's clear that all these search giants monitor user activity to push more related ads but this also works on search results.
There is no fixed update any more like earlier which shook the rankings once the update was pushed. The ML (Machine Learning) plays a big role to analyze the behavior pattern and keep updating to push more updated and relevant results.
So any kind of unethical or forced SEO activity will not give you results. The most effective way will be to do it ethical way and keep your content unique, updated and informative.

We are a creative agency which specializes in Marketing and advertising. If you have any SEO related query for your business or website, you can leave a comment here or contact us. Follow us in Facebook, Linkedin, Instagram and Twitter to get regular updates on latest trends and techniques in the digital world.
---
---