SSL certificate might not be a common name for you if you are not tech savvy. But you must have come across HTTP and HTTPs, the two protocols while surfing internet. Also, if you are using a Chrome browser, you must have noticed a "not secure" tag for sites which starts with HTTP. HTTP stands for Hypertext Transfer Protocol and HTTPs stands for Hypertext Transfer Protocol Secure. From the name itself, you can notice HTTPS is secure. That's where SSL certificate comes into picture. HTTPs is often referred to as HTTP over SSL.
The main idea behind HTTPs is to verify a website and protect the privacy and integrity of data during any transition. These secure connections were primarily used during online payment transactions, email exchange and for sensitive information transfer over the web.
What is SSL certificate?
SSL stands for Secure Socket Layer. This concept was developed in 1994 to secure user information over the web. SSL Certificate is a digital certificate given to a company through few of the trusted certification authorities. After getting this certificate, the web server adds a padlock to your website.
As per the research, by April this year, 57.1% of the Internet's 137,971 most popular websites are already using HTTPS.
Types of SSL certificate:
Different types of websites require different SSL certificate as per the level of security required for their business. Choosing the right SSL is important to a website from the conversion point of view.
Let's outline the 3 different type of SSL certificate available so far
DV or Domain Validation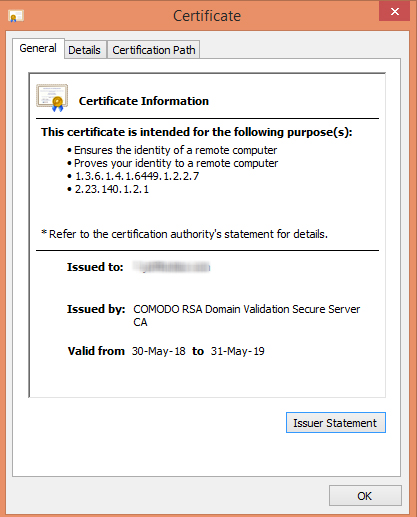 Domain Validation Certificate is the easiest validation process and is an encryption only certificate. These certificates are issued through automated process and at a very low cost. In order to get the DV certificate, you just need to submit your domain and validate your domain ownership through an email or phone call to match the WHOIS record of your domain.
DV validation may be useful from Price and Speed point of view, but is the basic type of validation and is less secure as compared to the rest. Therefore, DV certificates are implemented in mail server, internal mails, personal blogs etc where there is very little/no data transition occurs with your customers.
We recommend business of any size to at least use DV validation as a basic security measure if they are not willing to evaluate different certifications from a Budgeting point of view.
OV or Organization Validation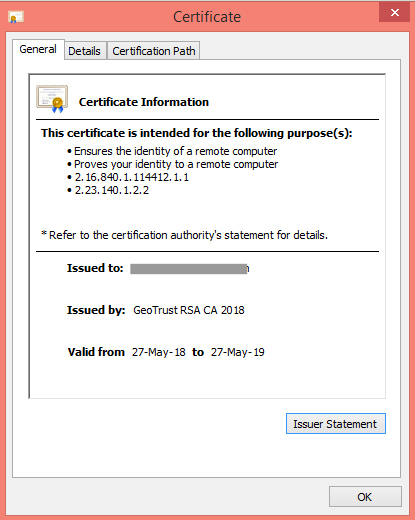 OV certificates are also known as High assurance certificate. Organization Validation Certificates are more secure than DV. In this type of certificates, the Certifying Authority checks the authenticity of the organization. The Certifying Authority might need different documents as per their requirement to verify the identity of the organization. Before that, the Certifying Authority also verifies the domain through email verification, file based verification or directly from domain registrar information. This is mandatory to ensure your Domain registrar information is public.
Most of the businesses whose product and services are listed on the website and do data exchange with customers shall use OV certificate.
EV or Extended Validation
This is the most premium and secure validation method. In this kind of certification, The Certificate Authority conducts-

Checking of the domain ownership
Thorough checking of the organization through specific document requirement by CA

The verification includes-
Verification of the actual physical existence of the entity from legal and operational point of view
Verification of the identity of the organization in the official records
Verification of the exclusivity of the rights to use the domain for which EV certificate is required
Verifying weather the issuance of EV certificate is properly authorized or not.
EV certificates are mostly used by Banking websites, top MNCs and other websites where trust is the major concern for customers.
Image- Website with green bar.
Advantages and Importance of SSL Certificate:
As per a research by WordPress, There are up to 90000 attacks on a wordpress site every minute. This calls for a security requirement for any website. Hence we can easily define the importance and benefit that we can get by getting SSL certified.
Secure website:
The most important aspect of SSL certificate is information protection. You data transmitted to or from your website is secure with SSL and can't be accessed by any attacker during the transition. These data can be the sign up or login details, passwords, payment information etc. Hence, you are safe from your data misuse by any attacker.
Security for all subdomins:
In addition to your main domain, you can also secure your subdomains. In order to secure your subdomain, you will need to get a Wildcard Certificate. The activation of the wildcard subdomain is similar to that of the ordinary SSL. All the Certifying Authority provides these Wildcard certificate for your listed subdomains
Increased Trust and Integrity:
SSL certificate installation adds a padlock to your website address bar. Once this Padlock is added, no phishing sites can get your information. Even though there is a phishing attack, your customers will only trust the sites with the padlock and discard the others. Hence, this will not only increase customer's trust on you, but will help increase credibility of your organization among the customers.
SEO Ranking Advantage:
From 2014 onwards, Google has added SSL enabled encryption as a ranking parameter for their search results. Though the impact won't be substantial as of now. But it may leave you back in the competition of the search result ranking in the near future.
How to get SSL Certificate
Thanks to the vast data of Google, you can browse all information on SSL certificates, Certifying Authorities and steps on how to install them.
Well!! The first thing you can do is check with your website hosting provider to get them as a part of the package. There are both paid and free SSL available from trusted certifying Authorities. Some of them are listed below.
Free SSL Certificate
Few of the trusted names in the Free SSL certification are-

Let's Encrypt:
It's an open, automated and free certificate authority. In order to get the certificate, you have to demonstrate your domain authority using a software that uses ACME protocol and typically it runs on your web host.

You can also get Lets Encrypt SSL certificate from SSL for Free. The advantage of this platform is, you won't have to go through ACME protocol or request Shell Access. Those who are not familiar with coding, can opt for Free SSL from this site. You have to renew the license every 90 days.
Comodo:
They are one of the most trusted provider and support almost all browsers. They offer Free SSL only for 90 days. After that you have to purchase the SSL.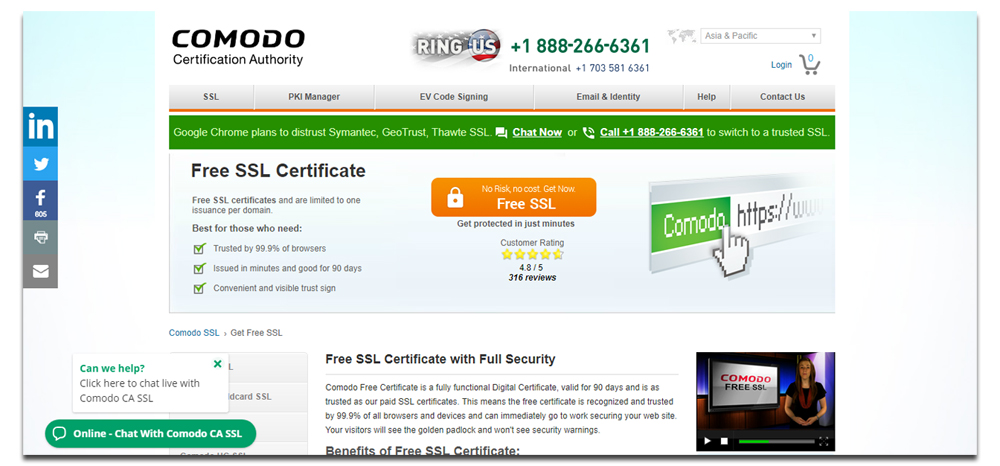 Cloudflare:
Cloudflare provides a One click SSL protection free for everyone.


Other Trusted Paid Certifying Authorities

If you are an enterprise, it is wiser to go with the paid providers. Also, if your budgeting allows you to take an EV certificate, it's much better. Since, it gives a name based padlock added to your address bar, the trust will be much higher among the customers.
Few of the trusted providers in this category are-
Comodo:

They are the most trusted CA. Each of the certificate provided by them has a value-add package especially useful for small and medium size businesses.
Digicert:
Digicert is a known name in the SSL for last more than 15 years. They have acquired one of the trusted provider Symantec's SSL certificate division. They claim to be one of the most customer centric brand in this particular segment.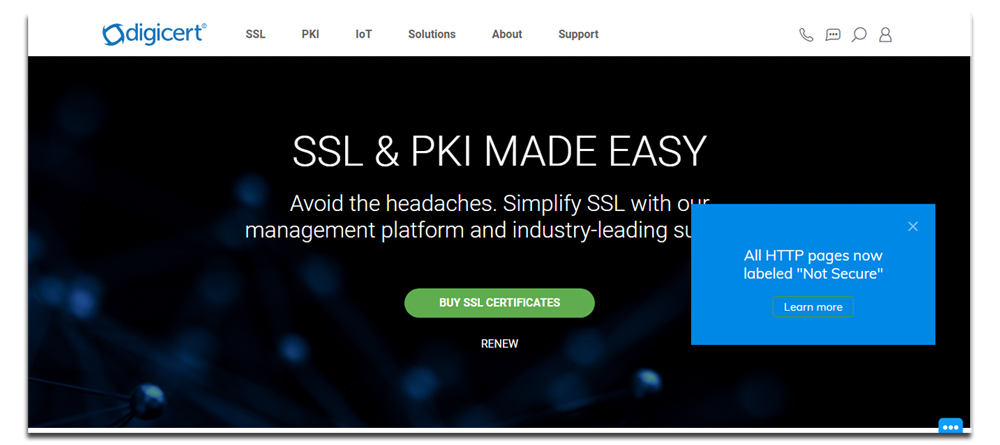 Globalsign:
It is a Belgium based firm since 1996. They provide SSL certificate starting from small-medium business to large enterprise based on their specific needs. So far they take pride of providing more than 2.5 Million certificates worldwide.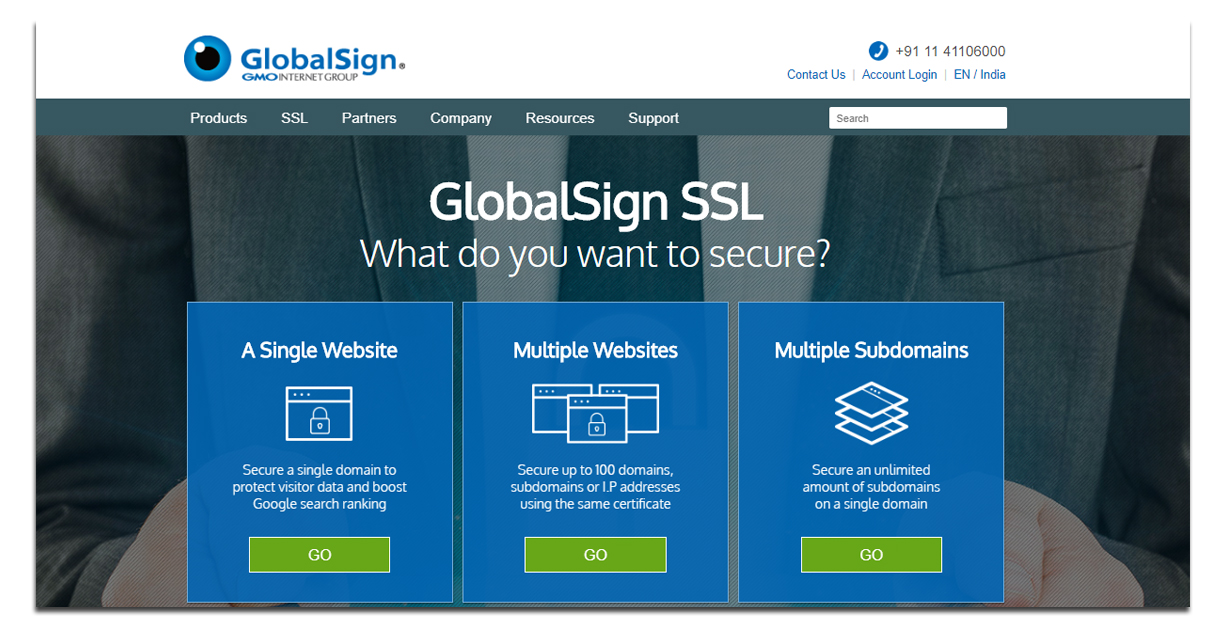 Final Thoughts…
The entire world is moving towards a secure web. With July 2018, with the release of Chrome 68, Chrome will check all sites and will mark the ones with http as "not secure". Also, with Google adding the security parameter page rank variables, it has become really important to choose the right SSL for your site. Most importantly, in order to sustain as a trusted website, you have to move from HTTP to HTTPS.
The obvious need of SSL certificate may create many queries and confusions in your mind to choose and implement the right SSL. You can get in touch with us for an idea sharing session on our live chat feature in TikiTech website. Stay tuned and follow us on Facebook and LinkedIn to get all the updates about the new innovation and changes in the web arena.
---
---