With the year 2020, Instagram turns 10 and the social networking app is becoming more popular because it's newer features, user friendly UI and enhanced privacy. Now when the entire world is facing crisis over covid-19 pandemic, the social media giant seems to be prioritizing access to instagram web by rolling out two of its amazing features on the web platform. After last weeks' successful launch of instagram DM for web, now Instagram livestreaming is also accessible on the web app.
DMs in Instagram web app
Instagram DMs or Direct Messaging is an on-the-go functionality used by people like influencers, reporters, Marketers and consumers. Instagram has been testing to roll out the DMs in its web version since January. With its successful launch, instagram made it easier for people to communicate privately on the social media platform, especially for them who respond hundreds of messages every day. Even at the time of global crisis, when people are spending more time on laptops and desktops, this feature actually incentivized by giving access to the inbox through a browser.
The Instagram web direct messaging experience essentially has the below functionalities-
Start a conversation with someone either from the messaging screen or a profile page
Create new groups and start conversation thread
Double-tap to like a message,
Choose and share pictures from the desktop/laptop,
Check the number of unread messages in your inbox.
Enable and recieve desktop DM notifications
How to access DMs in Instagram Web
Instagram has time and again proved its userfreindliness through simple and unique features that can be used even by non-techy people. However, you can follow the below steps to access it easily.
Login to your Instagram profile on a web browser
Tap on the DM icon at the top right corner. Clicking on the icon opens DM section where can manage old or new conversation.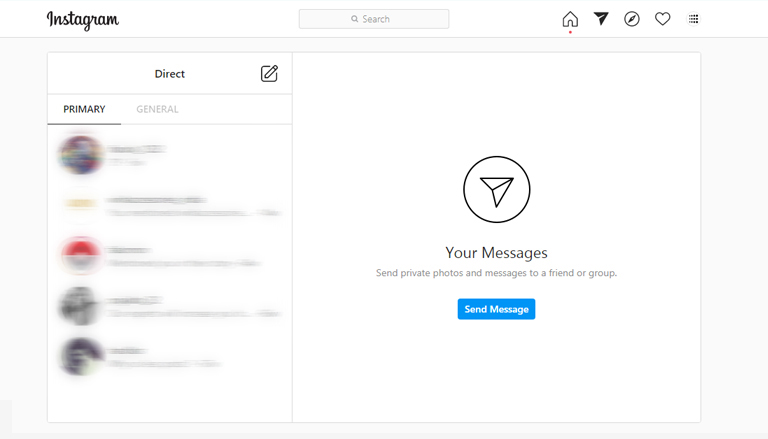 The Instagram web version holds similar features as mobile version for DM. Unlike mobile versions, we can't share Conversations, pictures and videos sent using Instagram DM for web, with other sites like Facebook or Twitter, or any other hashtag or location pages.
Live streaming in Instagram web
Live videos in Instagram and other social media is doubling in the recent weeks because of increased use of the platform in lockdown situation. Instagram Live is an amazing feature mainly aimed at giving users an opportunity to interact and have real conversation with your audience in real-time. However, Instagram users can now lookout Instagram Live broadcasts through their web browser. The size of Instagram Lives window isn't big as one would expect. Some of the features that you can expect in the web version:
View the live streams created by instagram users through both mobile and desktop
Live comments are available to the right side making it easier for everyone to check them out.
You can see someone streaming on instagram will have a Live button below a pulsing version of its profile picture.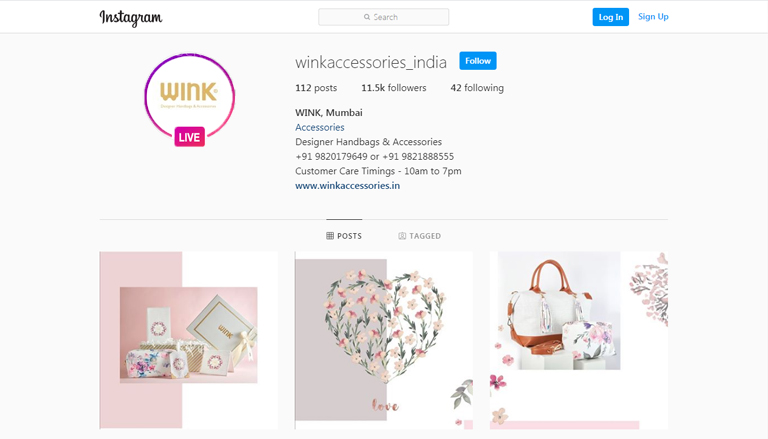 However, creating live videos is still limited to the mobile version and can't be performed using the web version.
Some quick Differences between website and mobile versions of instagram
Instagram gives you the opportunity to visit your account from your PC or Mac and mobile, but there are some limitations to the things you can do.
Instagram shopping is so far limited to mobile app.  Therefore, products tagged on images won't be displayed on Instagram Website. The shopping bag icon won't be displayed either.
Instagram stories are available only in the mobile version.
Comments on Live videos come on right side bar in Instagram web whereas they come at the bottom in a mobile platform
Clicking on any video, pauses the video in web version. However, this would result in muting or unmuting the video in the mobile version
Creating live streaming of videos is still not possible through Instagram web.
Clearly, Instagram was made keeping mobile users in mind. However, it's one of the fastest evolving platform with numerous user-friendly features. You can view any public profile of an instagram user even though you are not on the platform. Instagram has started rolling out features for desktop users and we hope they will keep adding more features in near future. Let's keep our eyes on what the social media giant is having for us in the future. Follow us in Facebook, Instagram and LinkedIn to stay tuned with all upcoming updates on web and digital media
---
---